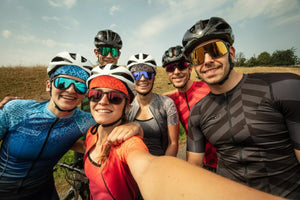 Responsible company
We believe that companies have a responsibility for their impact on society. Bioracer is a responsible company creating customer value through the active concern for people, ethics, equity and environmental impacts while running a profitable business. Simply put, we try to build a sustainable future for our people and our planet, following the Sustainable Development Goals defined by
the United Nations.
We are determined to create a healthy environment, where our employees can fulfill their potential. We do not want to work "quick and dirty" at the expense of our employees. We want to take our employees with us until they retire. That is why Bioracer engages in overall health promotion and well-being in the workplace.
BLUE OCEAN
We are also determined to protect the planet from degradation. That is why Bioracer promotes sustainable consumption and production, manages, and reduces waste, optimizes production processes, creates a sustainable lifestyle, rationally uses energy, and takes actions for biodiversity.
Lightness and durability make plastic a useful and versatile material to manufacturers, but these characteristics also make it a long-term problem for the environment. Of all plastic produced worldwide, 3% is estimated to end up in the ocean. And that is a lot. It has already resulted in a plastic soup in our oceans which is seriously damaging marine life.
Sustainability is close to our company's heart. Therefore, we offer eco-friendly cycling apparel in addition to our 'regular' range. Thanks to new technologies, it is nowadays possible to obtain innovative and qualitative fabrics from plastic. Our eco-sustainable polyester is a perfect example of this. Made of plastic bottles, it reduces the amount of waste that ends up in the ocean and requires less energy throughout the production process. We want to fight plastic pollution and move towards a circular economy this way. Cycle in style, cycle eco-friendly with our Blue Ocean cycling apparel.
To support our commitment to Mother Earth, we developed an ecological jersey made of recycled plastic. This unique cycling jersey is eco-sustainable. It reduces the amount of waste that ends up in nature and requires less energy throughout the production process. The elastic waistband with silicone gripper ensures that your jersey remains perfectly in place during the entire ride. The sleeves have a clean-cut finish.  If you'd be interested in learning more about the jersey, feel free to reach out to us via the contact form.
learn more about bioracer
We love sharing our stories with you on a regular basis. Keep an eye out on our blog section for stories about our products, our growth story and interviews with the cyclists who love our product.