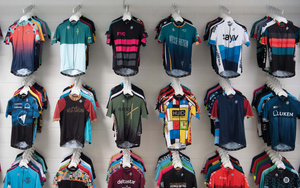 Bring your ideas to life.
YOUR CLUB, YOUR DESIGN, OUR QUALITY
As a leading company in custom cycling teamwear, clubs are at the heart of our #bioracerfamily. It's our mission to make your team faster! With over 12 000 unique designs each year, we know exactly what it takes to be your ideal custom clothing partner. If you are thinking of making a personalized kit for your event, club or group of friends, you are in the right place. Let us take you through the entire process, from first contact with a Bioracer representative, to the actual delivery of your custom-made kit.
Get in touch with us
Our industry-leading clothing offer has you covered in all the elements. We offer clothing in the following sports: Cycling, Triathlon, Running, Nordic Skiing, Speedskating.  We have a deep international history in all these sports to help us bring the best product to you the customer. Whether you're an athlete beginning in your sport or a top professional; Bioracer can make you faster and there is something for every taste. The Epic line with race position fit and high-end finish is all about performance. The Icon line with classic body fit ensures ultimate comfort while keeping performance in mind.
Designs come to life
Use our online design configurator to send your design to our in-house design team or work with the team to draw the kit of your dreams. Reviewing your design has never been easier with our 3D Design tool. This platform allows you to see the end result and interact directly with the designer assigned to your project. Rather a white zipper? Or your logo a bit smaller? No problem for our design team!
THE ORDER PROCESS HAS NEVER BEEN EASIER
The MyBioracer platform allows for fast, easy order processing.  Your club members place and pay for their own orders directly on the platform, which will serve as your own company webshop.  You can even allocate a budget for each of your members or employees. At the end of the set order period, you get a quick report of all sales, you approve and the order is then sent. Once we have this approval, your custom-made order is placed in production. It will be ready for delivery in 6 to 8 weeks. Our team is available at any time throughout the production process to keep you informed on the delivery date. 
Contact us for a FREE QUOTE, our sales team will guide you through the order process. 
FREQUENTLY ASKED QUESTIONS