SPITFIRE - YOUR FAVOURITE FOR LONG SUMMER RIDES
In the Spitfire line, comfort and style go side by side. Belgian innovation, the best fabrics and the coolest designs. All specially developed to make you stand out on the bike. In summer, you leave in the early morning and return in the late evening. For those long and challenging summer rides, we developed the Spitfire line. The 4-way stretch allows you to move freely, on the bike and on a terrace. The mesh side panels of the jersey ensure optimal ventilation. 
It's your summer ride, enjoy it!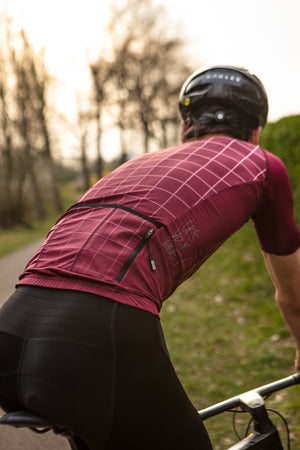 Made of 4-way stretch Lycra, the front panel offers you maximum flexibility. The 1-way stretch back panel keeps your jersey in place, while the mesh side panels dissipate body heat so your core temperature remains stable.

The back pockets offer you enough storage space for all your cycling essentials and make them easy to access when out on the road. The zip pocket ensures a safe cycling journey for all your valuables (smartphone, keys, wallet,..)

Designed to reduce friction and provide optimal bike comfort, the clean-cut sleeves follow every microscopic movement and perfectly fit the contours of your arm.