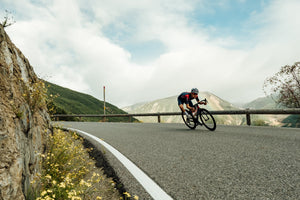 A relentless focus on performance
"If you can dream it, you can achieve it." Since the early days this raw ambition and dedication is pushing our racers and athletes to epic results. It asks for passion, devotion and innovation, characteristics all members of the Bioracer family have in common with both our professional racers and millions of ambitious riders worldwide. No matter how big or small their goal, we strive to make them pedal faster to success.
Our core focus is the performance of our racers. "Man is the measure of all things", the philosophy of Da Vinci's Vitruvian man, has been the inspiration in how we develop our high-performance cycling apparel and services. By genuinely listening to our customers' challenges, understanding their needs and prioritizing the solution, we constantly get triggered to innovate.
Founded in Belgium, the spiritual heartland of cycling, more than hundred years of cycling history is woven into every stitch. The cycling knowhow and legacy of generations of cycling lovers is translated into performance apparel and game-changing services. Developed in Belgium, race proven by pro's and available for all racers worldwide.
It's not about your level, it's about your ambition. Whether you ride for glory among friends or go for Olympic gold. We want to inspire you to dream big, succeed and reach higher.
And along the way we make you a promise: WE MAKE YOU FASTER.
TRUE BELGIAN CYCLING LEGACY
In 1986, Raymond Vanstraelen founded Bioracer with a clear purpose to measure and study the athlete in motion in order to optimize cycling performance. While our business has grown from Raymond's home to factories, research facilities and offices on three continents, our mission remains steadfast and signifies the meaning of our name and the heart of our promise to make you faster. 
We are a company of riders and racers, designers and innovators, craftspeople and seamstresses.
We engineer apparel and test it in ourProtolab for its ability to battle cold and regulate heat. We analyze the cyclist in motion to ensure fabric, design & construction deliver anatomic fit with optimal comfort. We monitor wind-tunnel data and real-world racing to discover new ways to cheat the wind.
But mostly, we find truth on the climbs, in the mud, in the crosswinds, over the cobbles and in every meter of riding from the start line to the finish line. Learning from thousands of racers and races; thousands of medals and podiums, and thousands of club, Olympic and World Championship races. With over a hundred years of Belgian cycling history woven into every stitch and every pattern, it is our mission and honor to make you faster. And bring the same performance products worn by the best athletes in the world to every cyclist, every day.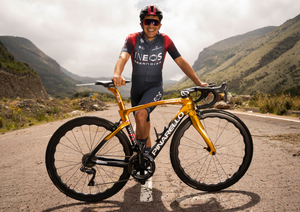 Your custom cycling solution
As a leading company in custom cycling teamwear, clubs are at the heart of our Bioracer family. It's our mission to make your team faster! With over 12,000 unique designs each year, we know exactly what it takes to be your ideal custom clothing partner. If you are thinking of making a personalized kit for your event, club or group of friends, you are in the right place.
Our industry-leading clothing offer has you covered in all the elements. We offer clothing in cycling, triathlon, running, Nordic Skiing and speedskating.  We have a deep international history in all these sports to help us bring the best product to you the customer. Whether you're an athlete beginning in your sport or a top professional; Bioracer can make you faster and there is something for every taste.
The MyBioracer platform allows for fast, easy order processing. Your club members place and pay for their own orders directly on the platform, which will serve as your own company webshop.  You can even allocate a budget for each of your members or employees. At the end of the set order period, you get a quick report of all sales, you approve and the order is then sent. Once we have this approval, your custom-made order is placed in production. It will be ready for delivery in 6 to 8 weeks. Our team is available at any time throughout the production process to keep you informed on the delivery date. 
learn more about bioracer
We love sharing our stories with you on a regular basis. Keep an eye out on our blog section for stories about our products, our growth story and interviews with the cyclists who love our product.