COMFORT ON THE BIKE
As a rider, you can testify: the quality and comfort of your pad is crucial. At Bioracer we are at the forefront of developments in this area & we ensure that all our built-up expertise in the field is integrated into every single piece of Bioracer bib out there. Our Protolab in Belgium serves as the in-house centre where we develop and test all our pads. Thanks to their well-considered
construction and gender-specific design, they provide optimal support and comfort.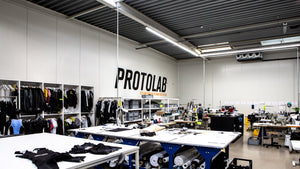 The most demanding conditions require the best materials. Our multi density foam construction provides optimal support and comfort. The open 3D webbing allows a free air stream which makes the cycling pad breathable, light and fast drying. This means enhanced moisture management and better skin protection. Furthermore, the rubber-like behavior of the foam allows high density impact protection while riding. We use this technology in our Vapor and Wave chamois pads, who are both integrated in our gender-specific bib collection.