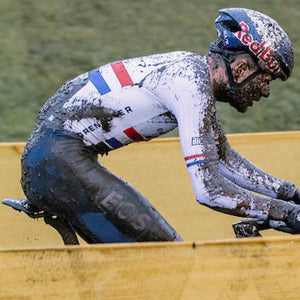 MAGIC BIORACER TECHNOLOGY
WATER REPELLENT TEXTILES EXPLAINED
In January 2021, soon-to-be World Champion Cyclocross Tom Pidcock started his CX season in the mud of Boom (Belgium). What immediately caught the eye after one lap was the almost flawless, snow-white jersey of the British INEOS Grenadiers rider. A big contrast to his fellow field riders. On Twitter, the question was asked: "What kind of wizardry is this?!" Pidcock himself responded wittily: "Magic Bioracer technology." But what exactly is this technology?
INSPIRED BY TRIATHLON AND SWIMMING
Especially for their cyclocross suits, the Belgian cycling apparel manufacturer chose an ultra-water-repellent textile technology. To develop this, Bioracer worked together with its regular textile partner who also takes care of the 'aquadynamics' of their triathlon suits, among other things. For this new technology, they drew inspiration from swimming. Among others, the Bioracer triathlon suits of Team Belgium achieved strong results in terms of water-repellent functionalities. Together with their supplier, Bioracer set to work after the Games to translate this technology into the water-resistant membrane fabrics for riders like Tom Pidcock.
NEXT GENERATION TEXTILES
What makes the LOT 'O' DRY technology so special is that it is water repellent on three levels. It is inspired by nature, more specifically by the water-repellent function of a lotus flower. The technology consists of a combination of unique textile fibers, a specific weaving method and an ecological 'Super Hydrophobe' post-treatment. All this ensures that the material absorbs 20% less moisture while remaining 99% breathable. 
With Tom Pidcock, we saw very well that the top layer of the textile did not absorb much water. Because the cold water immediately slips off the top layer, the grains of sand from the mud do not have a chance to grab onto the fabric and the clothing remains light and drier. Two essential advantages for a cyclocross rider.
discover more bioracer stories