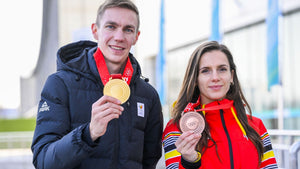 HOW WE CONTRIBUTED TO BELGIAN SUCCESS DURING THE 2022 WINTER OLYMPICS
BIORACER SPEED SKATING SUITS FOR BEIJING 2022
During February 2022, all eyes were on Beijing. Fourteen years after the Summer Olympics, the Olympic flame burned again in the world-famous "bird's nest" stadium. Belgian athletes Bart Swings, Mathias Vosté and Sandrine Tas defended the Belgian colours in the long track competitions. Stijn and Hanne Desmet, brother and sister, represented the tricolour in the short track competitions.
Bart Swings was able to bring home a historic gold medal for Belgium on the mass start, Hanne Desmet won a memorable bronze medal in the short track finals. Both achievements were historic to the Belgian National team, as they're the first two medals ever for the country during the Winter Olympics.
PURE BELGIAN TEXTILES
The national speedskaters appeared on the Beijing ice in brand new suits from Bioracer. Corné Lepoeter, president of the KBSF: "The KBSF was very pleased with the collaboration with Bioracer. Together, we developed a unique suit in which our skaters could get the most out of their medals chase in Beijing. First and foremost, in Bioracer we found a premium partner who only wants the best for our speed skaters. As the Belgian federation, it was also extremely important that these high-tech suits were thoroughly Belgian."
WIND TUNNEL TESTED
Bioracer engineered these brand-new aerodynamic speed skating suits based on a whole series of wind tunnel tests. To carry out these tests perfectly, they developed a full-scale skating mannequin. Based on these wind tunnel tests, Bioracer decided to apply a thin film coating on top of the fabric. This coating performs better than the traditional rubber coating. Furthermore, the seams of the suit are welded. This technology offers an aerodynamic advantage and it's a step forward in terms of comfort. Where traditional stitching often caused some skin irritation, this problem is a thing of the past thanks to the welded seams.
THE PROTOLAB
At the Protolab, the epicentre for product development at Bioracer, the pattern of the suit underwent a true metamorphosis. This new suit 'forces' the skater into the most aerodynamic position. Especially when fatigue strikes, it is difficult for the speed skater to maintain the perfect race position for an entire race. The hood also got a thorough screening at the Protolab. The result? A hood that offers the head more freedom of movement and provides the necessary cooling in the heat of the race.
DISCOVER MORE BIORACER STORIES